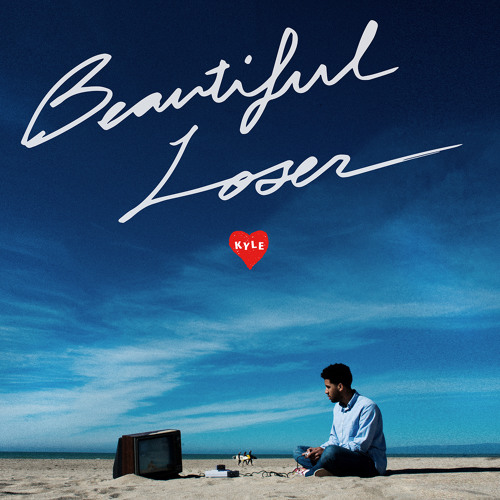 KYLE, formerly know as K.I.D, is a 20-year-old, West Coast artist emerging from Ventura, Calif. Those on the West Coast who bought tickets to G-Eazy's These Things Happen Tour, will be lucky enough to see Kyle perform. If you don't fall into that category, don't worry, because this will surely not be the last time Kyle hits the road on tour. The past 12 months have been huge for the young artist, including the release of his full length album Beautiful Loser back in August.
Beautiful Loser covers all the bases to a great, versatile, project that will leave you satisfied on multiple levels.  Kyle's style is polished and efficient, but if you think you've heard it all before, you just haven't listened enough. Tracks with great original sound like "Fruit Snacks" open the listeners mind to a new sound and take on hip-hop. Beautiful Loser will appeal to your sensitivity with "This is Hit"; capture your inner romantic in songs like "Raining Love" and "To Do List"; knock you on to the floor with a hard hitting song like "Bang" and make you want to get right back up and dance to tracks like "When Can We" and "Love 4 You". After just one good listen through, you'll be sure to realize how well  Beautiful Loser does it all, and does it beautifully.
As KYLE continues to venture on tour alongside G-Eazy, take some time to appreciate an amazing artist, with an equally amazing personality. Kyle is the kind of "loser" that everyone can relate to, and everyone can learn from through his art and music. Get to know Kyle now, because it won't be long until his four letter name is up in lights. Check out the his great assortment of music videos and don't forget to give all of Beautiful Loser a listen and support the Super Duper movement by downloading it off iTunes.
You've said in the past some early childhood music you enjoyed included a lot of Weezer and Nirvana. How did that come about?
My Mom is white and she's from California and that's just how the story goes. That's like the shit 
she would play in the car. I would be like "Oh this is tight".
When did you start to get into hip-hop music?
When I was about ten I heard my first rap song.
Do you remember what that was?
Your video for "Keep It Real", which just turned over a year old, did pretty well on WorldStarHipHop.com. How did you react to that?
Man, you know I've got like a lot of views and shit over like the years through YouTube and whatnot, but I've never had something crack off like that… like 200,000 in the first day. And I was like fuck, everyone was hitting my Twitter. And I remember I was out and my service was hella bad and I couldn't really see what was going down, I just knew cause I was getting hella phone calls and I just knew it was going crazy and people were telling me about it so I was just as excited as fuck that day.
"They say that I sound like Drake, I don't, your daughter thinks that I'm great, I know" – What's it like being compared to Drake all the time?
I mean first and foremost when I wrote that rap it was more or less like, I had just been hearing it a lot, and to be a hundred percent honest 16 year old KYLE, 15 year old KYLE sounded just like Drake, like a lot like Drake. But people have to recognize I heard my first Drake song when I was 13 years old. It's not like I'm A$AP Rocky, he's like 25 or 26. I'm not like Kendrick's age and sound like Drake. I was a kid, you know? I technically grew up on Drake. And of course he's going to like influence me, so, you know, when I hear the whole comparison thing now really, I mean that line of the song was really frustration shit. And it was actually because I was making it with Carnage, and he makes fun of me all the time and calls me Jimmy or something. I don't really take the whole Drake comparison as a bad thing, it's a real thing, it's a true thing and I think that it's okay for somebody's who, you know, turned 20.
Bowwwww Dowwwwn
How did you find out about that?
Yeah Donald had hit me up over Twitter and whatnot and I went over to his house and shit and we were playing my records and stuff. I think he had heard "Fruit Snacks" from one of his homies or somebody on his team. And they were all fucking with it and then obviously I'm a super huge, you feel me, Gambino fan.
Of Course
That shit was so popping and then they told me they wanted to use it for this independent film they were shooting, and I was like… duhhhh.
You've said before you were involved in drama in high school and liked writing plays. Would you ever consider doing a screenplay like Because The Internet? Does something like that interest you?
Yeah I remember when I was real little I wrote a hip-hoprea and it was like a play, and now that I think about it, the storyline definitely needs work. But it was about this kid and he was a rapper guy and he had a best friend. He kind of sounded like Jadakiss, there were all these Jadakiss songs for the musical part. And then his friend gets kidnapped and shit, it was cool. But yeah I think it's super cool. To have like theatre and music together especially in a hip-hop sense, it's super positive.
On"This Is A Hit" off the album, you say "I guess it's weird and I should have something to fear because I was writing plays instead of pounding beers" Would you say that's kind of the theme of the album- being yourself?
Yeah that's definitely a part of the theme of "Beautiful Loser". Just really, really having non conformity. That's one of the things in our society, especially in my generation; conformity can get you to do worse things, you know? Almost everything bad like, racism, sexism, drug abuse, all that shit is us being afraid to say "no". Us being afraid to do what we want. So yeah that's like the biggest thing. If I could just have my music do one thing, and it's like the only thing it's ever gonna do, I would just hope for it to make people be who they really are and not be something because other people tell them too.
Rumor has it you play a pretty mean game of NBA 2k, is that true?
Oh my god. Yeah, I mean, I'm the fucking best. Not to be hella rude, I'm just saying I'm really fucking good.
It's just a natural talent?
It comes from hours, and dedication and God given blessedness that I have via Xbox remote. I mean I would play you for my freedom right now. I don't know how good you are, but I would play you for my freedom… like for my freedom.
Staying with video games, you have a song off the album called "Sex and Super Smash Bros". Who is your go-to Super Smash Bros character?
Who is my favorite Super Smash Bros character…? Fox. He's got the gun, he's got mean kicks, he'll kick you all in your face and then shoot ya, Pow!
Yeah it was definitely Carnage. Carnage and G are good friends, for like a long time and they still work with each other since forever, since like the dawn of man. When I first got out to LA, I was working on Beautiful Loser, Carnage introduced me to G and he got me my first opening spot for G at El Rey Theater.
Any new projects, videos, anything we can expect after tour?
I'm just getting in to working on my next project and it's pretty slamming. It's going to be preeetty slamming. 
Be sure to check out KYLE's music videos and all of Beautiful Loser as he continues on tour!